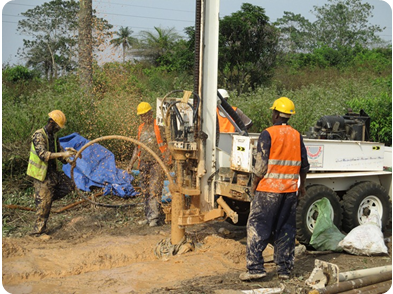 Groundwater provides over half of the world's population with domestic water supplies. In places where it is readily available, and of good quality, groundwater can be a reliable resource. Groundwater storage is extensive in many places, and acts as a natural buffer against climate variability. However, the quantities that can be abstracted are unevenly distributed, and yields vary.
In many countries, there has been a significant switch from using unprotected surface water to protected groundwater. Groundwater scarcity and pollution are major concerns in some parts of the world. Some governments and agencies are attempting to move away from handpump-based supplies to piped schemes fed by motorised (including solar) pumping. Alas, inadequate appreciation of groundwater potential is likely lead to under-performance and failure of these supplies. Greater efforts are required to fully assess and evaluate groundwater potential and associated risks.
In order to ensure that water systems that tap groundwater are built to last, and that service provision is cost-effective, there is a need for vigilance within specific projects. Professionalism is needed for the planning process, community engagement, siting, procurement and contract management, drilling and drilling supervision and reporting, as well timely payment for goods and services. The basis for professionalism is trained, experienced and equipped personnel, with adequate resources to be able to their job properly.
Of all of RWSN's themes, Sustainable Groundwater Development has the longest history in the network. It remains highly relevant, particularly in light of the Sustainable Development Goals.
The Sustainable Groundwater Development theme strives to ensure that Groundwater resources are properly considered and sustainably used for developing drinking water supply sources and ensuring their long-term quality and security. The theme comprises three topics: Groundwater Resources Management, Professional Water Well Drilling and Groundwater Abstraction as summarised.
Topics
The RWSN website library also includes publications on Hand dug wells and Manual Drilling.
To find out more or to get involved, join the Sustainable Groundwater Development community on DGroups. RWSN also hosts specific online discussion groups on Manual Drilling.
Most popular publications
Useful publications and films that you may not know about!
Useful Links and Resources
Associations and Other Networks
History
The Sustainable Groundwater Development theme has the longest history in RWSN, building on: