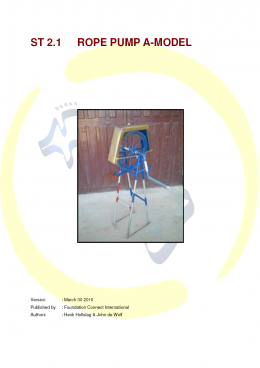 Author
HOLTSLAG, H. AND DE WOLF, J.
Year of Publishing
2010
Publisher
Foundation Connect International
Institution

Rope Pump A-Model Manual ST2.1
Description:
This manual is made as an aid in the Production, Installation and Operation & Maintenance of the rope pump A-model. The content is based on input from SHIPO Tanzania, the experiences of Henk Holtslag and Connect international, Jan de Jongh of ARRAKIS and a Practica manual. Some pictures are used from a manual of RWSN-SKAT.
This manual is part of the main manual, named "ST 2 Pumps". Other manuals in this range are:
• ST 2.2 Rope pump Windlass model;
• ST 2.3 Training of rope pump production companies.
Each manual can be used separately from the other manuals.

DISCLAIMER: This is a non-RWSN publication and endorsement by RWSN or any of its member organisations should not be inferred.
---
Bibliographical Information:
HOLTSLAG, H. AND DE WOLF, J. (2010) Rope Pump A-Model Manual. ST2.1 , Foundation Connect International , Leiden, Netherlands
---
DOWNLOADS (239)
Rope Pump A-Model Manual
pdf • Size: 1.87 MB