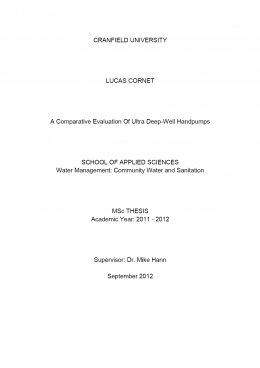 Author
CORNET, L.
Year of Publishing
2012
Publisher
Cranfield University
Institution
SCHOOL OF APPLIED SCIENCES Water Management: Community Water and Sanitation
A Comparative Evaluation Of Ultra Deep-Well Handpumps MSc THESIS Academic Year: 2011 - 2012
Description:
Permission has been granted to publish on the RWSN website by the author, Lucas Cornet, and by Dr Alison Parker (Cranfield University) and Erik Harvey (WaterAid)

Abstract

Handpump technology is documented as being the best option for the water supply of rural communities in the developing world. However, it has been observed that the amount of available handpump models significantly drops as water tables get deeper. Many handpumps are therefore expected to operate beyond their design specifications, which is responsible for many failures of handpump projects. This paper compares a total of 12 ultra deep-well handpumps (UDWHPs), with a pumping lift higher than 60 m, in terms of technologies, materials, outputs, costs and maintenance potentialities.

DISCLAIMER: This is a non-RWSN publication and endorsement by RWSN or any of its member organisations should not be inferred.
---
Bibliographical Information:
CORNET, L. (2012) A Comparative Evaluation Of Ultra Deep-Well Handpumps. MSc THESIS Academic Year: 2011 - 2012 , SCHOOL OF APPLIED SCIENCES Water Management: Community Water and Sanitation , Cranfield University , Bedfordshire, UK
---
DOWNLOADS (278)
A Comparative Evaluation Of Ultra Deep-Well Handpumps
pdf • Size: 2.71 MB