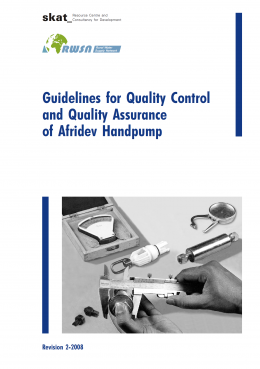 Author
PRAKASH, G. & ERPF K.
Year of Publishing
2008
Publisher
Rural Water Supply Network
Institution
Skat / SGS India Ltd.
Afridev: Guidelines for Quality Control and Quality Assurance of Afridev Handpump (Revision 2-2008)
Description:
The Afridev Handpump is produced in several developing countries. The quality, however, varies from manufacturer to manufacturer. While most of the quality related problems can be attributed to lack of internal quality control mechanism at the factory level, others can be attributed either to inadequate procurement procedures or insufficient understanding of the quality assurance requirements by inspection agencies.
---
Bibliographical Information:
PRAKASH, G. & ERPF K. (2008) Afridev: Guidelines for Quality Control and Quality Assurance of Afridev Handpump. (Revision 2-2008) , Skat / SGS India Ltd. , Rural Water Supply Network , St Gallen, Switzerland
---
DOWNLOADS (246)
Afridev: Guidelines for Quality Control and Quality Assurance of Afridev Handpump
pdf • Size: 1.86 MB