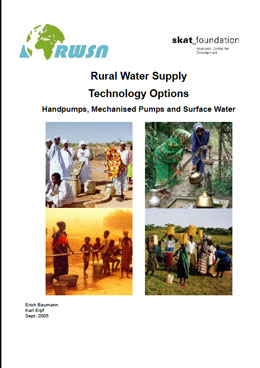 Author
BAUMANN, E. and ERPF, K.
Year of Publishing
2005
Publisher
RWSN
Institution
Skat
Rural Water Supply - Technology Options Handpumps, Mechanised Pumps, Surface Water
Description:
A small compendium of technology options for rural water supply. Briefly describing the various types of most common handpumps and providing information on motorised pumps such as submersible pumps, line shaft pumps, jet pumps, solar pumps and wind power.
Also includes rainwater harvesting and surface water intakes structures from rivers, lakes and reservoirs.
---
Bibliographical Information:
BAUMANN, E. and ERPF, K. (2005) Rural Water Supply - Technology Options. Handpumps, Mechanised Pumps, Surface Water , Skat , RWSN , St Gallen, Switzerland
---
DOWNLOADS (231)
Rural Water Supply - Technology Options (Handpumps, Mechanised Pumps, Surface Water)
pdf • Size: 1.75 MB