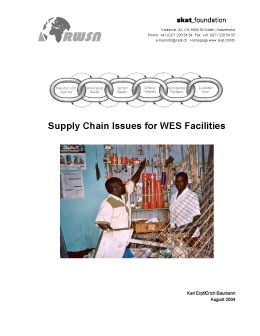 Author
BAUMANN, E. and ERPF, K.
Year of Publishing
2004
Publisher
RWSN
Institution
Skat
Supply Chain Issues for WES Facilities
Description:
Post-project problems of O&M management put supply chains management issues at the core of sustaining investments. Delivery mechanisms for spare parts and repair services have consistently failed because of limited resources, and a lack of incentives. But this does not have to be the case, as explained in this publication.
---
Bibliographical Information:
BAUMANN, E. and ERPF, K. (2004) Supply Chain Issues for WES Facilities. , Skat , RWSN , St Gallen, Switzerland
---
DOWNLOADS (37)
Supply Chain Issues for WES Facilities
pdf • Size: 0.86 MB