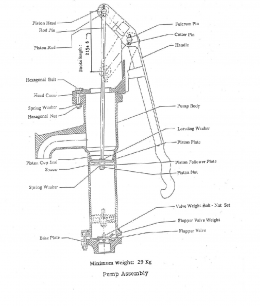 Author
UNICEF-DPHE
Year of Publishing
1993
Publisher
UNICEF/Gov of Bangladesh
Institution
Department of public Health Engineering (DPHE),
Cast Iron No. 6 Suction Hand Pump Production Manual
Description:
This production manual contains the design specifications and drawings of Cast lron No. 6 Hand pump. The manual has been produced by UNICEF, Dhaka, Bangladesh and will be provided to selected manufacturers in Bangladesh for specific purpose of assisting them to produce No. 6 Hand pump to the specified standards.
---
Bibliographical Information:
UNICEF-DPHE (1993) Cast Iron No. 6 Suction Hand Pump. Production Manual , Department of public Health Engineering (DPHE), , UNICEF/Gov of Bangladesh
---
DOWNLOADS (80)
Production Manual - Cast Iron No. 6 Suction Hand Pump
pdf • Size: 4.22 MB