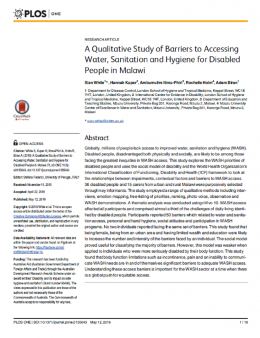 Author
White, S., Kuper, H., Itimu-Phiri, A., Holm, R. and Biran, A.
Year of Publishing
2016
Publisher
PLoS ONE, 2016, 11(5), e0155043. DOI: 10.1371/journal.pone.0155043
Institution
Mzuzu University
A qualitative study of barriers to accessing water, sanitation and hygiene for disabled people in Malawi
Description:
This study found that body function limitations such as incontinence, pain and an inability to communicate WASH needs are in and of themselves significant barriers to adequate WASH access. Understanding these access barriers is important for the WASH sector at a time when there is a global push for equitable access.
---
Bibliographical Information:
White, S., Kuper, H., Itimu-Phiri, A., Holm, R. and Biran, A. (2016) A qualitative study of barriers to accessing water, sanitation and hygiene for disabled people in Malawi. , Mzuzu University , PLoS ONE, 2016, 11(5), e0155043. DOI: 10.1371/journal.pone.0155043
---
DOWNLOADS (12)
A qualitative study of barriers to accessing water, sanitation and hygiene for disabled people in Malawi
PDF • Size: 0.21 MB