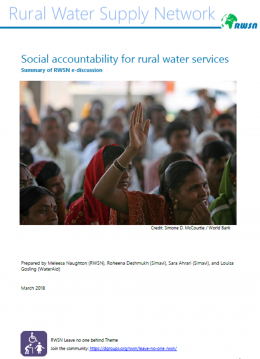 Author
Naughton, M; Deshmukh, R; Ahrari, S; and Gosling, L
Year of Publishing
2018
Publisher
RWSN
Institution
RWSN
Social accountability for rural water services
Description:
Will governments make sure everyone has access to water if nobody holds them accountable? How can citizens hold their governments to account? This RWSN e-discussion took place from 19 February to 9 March, 2018 and focused on the following topics:
Week 1: Social accountability in different contexts;
Week 2: Sharing tools, methods and strategies for social accountability;
Week 3: Strengthening and scaling up social accountability.
Through the e-discussion, participants have had the opportunity to share stories and experiences from the field on holding governments accountable in delivering sustainable water services. This brief presents the lessons learnt and advocacy messages from this e-discussion for influencing sector discourse on this topic and ensuring that it is rooted in the reality on the ground.
---
Bibliographical Information:
Naughton, M; Deshmukh, R; Ahrari, S; and Gosling, L (2018) Social accountability for rural water services. , RWSN , RWSN
---
DOWNLOADS (208)
Social accountability for rural water services
pdf • Size: 0.5 MB