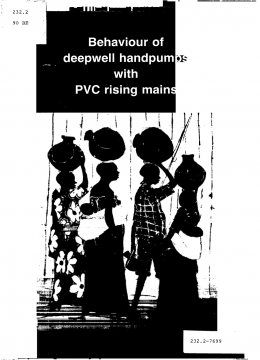 Author
BESSELINIC, J., GRUPA, J. and P. SMULDERS
Year of Publishing
1990
Publisher
APP bv.
Institution

Behaviour of deepwell handpumps with PVC rising mains
Description:
This report is intended for persons with a technical background, who are involved in the manufacturing, implementation and maintenance of medium and deepwell handpumps. But It also alms at persons Involved in handpump research and development, as well as consultants.
The report summarizes the main results of the Investigations and explains the basic principles and problems related to deepwell handpumps with PVC rising mains. It indicates in a general sense how to improve handpump design.

DISCLAIMER: This is a non-RWSN publication and endorsement by RWSN or any of its member organisations should not be inferred.
---
Bibliographical Information:
BESSELINIC, J., GRUPA, J. and P. SMULDERS (1990) Behaviour of deepwell handpumps with PVC rising mains. , APP bv. , Ellecom, The Netherlands
---
DOWNLOADS (30)
Behaviour of Deepwell Handpumps with PVC rising mains
pdf • Size: 6.61 MB