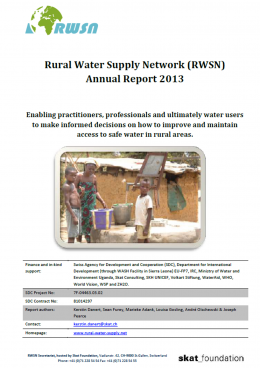 Author
DANERT, K., FUREY, S. G., ADANK, M., GOSLING, L., OLSCHEWSKI, A. and J. PEARCE
Year of Publishing
2014
Publisher
RWSN
Institution

RWSN Annual Report 2013 Enabling practitioners, professionals and ultimately water users to make informed decisions on how to improve and maintain access to safe water in rural areas.
Description:
The Rural Water Supply Network (RWSN) is a global network of professionals and practitioners. It works to raise standards of knowledge as well as technical and professional competence in rural water supplies and thus fulfil the vision of sustainable rural water services for all.

The year 2013 witnessed the dramatic growth in the number of members from 2,567 to over 5,125. Members are from 124 different countries. The network now also provides the opportunity for organisation membership, a mechanism that should strengthen RWSN and improve its vibrancy over the coming years.

Confidence in online exchange and sharing has grown, evidenced by extensive participation in e-discussions, whether formally structured, or as individuals respond to each other's queries and comments. The sustainable Groundwater Development, Handpump Services and Mapping communities have been notably vibrant in 2013.
---
Bibliographical Information:
DANERT, K., FUREY, S. G., ADANK, M., GOSLING, L., OLSCHEWSKI, A. and J. PEARCE (2014) RWSN Annual Report 2013. Enabling practitioners, professionals and ultimately water users to make informed decisions on how to improve and maintain access to safe water in rural areas. , RWSN , St Gallen, Switzerland
---
DOWNLOADS (166)
Rural Water Supply Network Annual Report 2013
pdf • Size: 1.68 MB