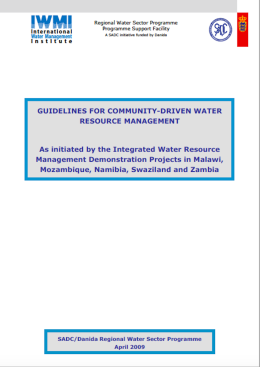 Author
SADC/Danida Regional Water Sector Programme
Year of Publishing
2009
Publisher
Southern African Development Community/Danish
Institution
Southern African Development Community/Danish
Guidelines for community-driven water resource management
Description:
GUIDELINES FOR COMMUNITY-DRIVEN WATER RESOURCE MANAGEMENT
As initiated by the Integrated Water Resource Management Demonstration Projects in Malawi, Mozambique, Namibia, Swaziland and Zambia

SADC/Danida Regional Water Sector Programme. 2009. Guidelines for Community-driven Water Resource Management. Pretoria: Southern African Development Community/Danish
International Development Agency, in collaboration with the International Water Management Institute.
---
Bibliographical Information:
SADC/Danida Regional Water Sector Programme (2009) Guidelines for community-driven water resource management. , Southern African Development Community/Danish , Southern African Development Community/Danish , Pretoria
---
DOWNLOADS (41)
Guidelines for community-driven water resource management
pdf • Size: 0.65 MB