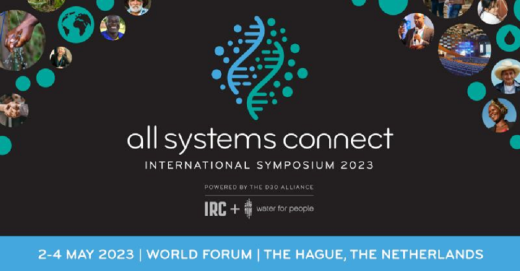 AllSystemsConnect2023
© 2022 IRC • IRC
Co-design the programme with us by developing sessions and/or inputting into the content as a speaker or facilitator.

Help spark the thinking and action that will mobilise the power of water and sanitation to act as a gateway to achieving the SDGs. Submit your contribution by 15 October 2022.

Si nous voulons progresser plus rapidement et avec plus d'impact vers tous nos objectifs, nous devons regarder au-delà de nos propres secteurs et disciplines. C'est pourquoi nous vous invitons à organiser une session à l'ASC23 ou à y participer en tant que contributeur pour susciter la réflexion et l'action qui mobiliseront le pouvoir de l'eau et de l'assainissement pour agir comme une passerelle vers la réalisation des ODD.

Que recherchons-nous ?
Propositions explorant les corrélations entre l'eau et l'assainissement avec la santé, le climat, le développement économique, l'éducation et la justice sociale, ainsi que des contributions individuelles qui seront combinées en sessions pour compiler le programme de l'ASC23.
---
More Information