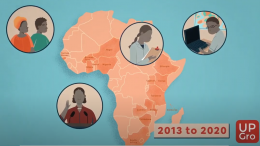 Unlocking Africa's Groundwater Potential
© 2020 Room3 • UPGro
Project starts: 2013
Project finished: 2020
Collaborators & Partners: Skat Foundation, Richard Carter & Associates + research teams from across Africa and Europe.
Funder: UK's Department for International Development (DFID), Natural Environment Research Council (NERC) and in principle the Economic and Social Research Council (ESRC)
---
Summary
Unlocking the Potential of Groundwater for the Poor (UPGro), was a seven-year international research programme (2013-2020) which was jointly funded by UK's Department for International Development (DFID), Natural Environment Research Council (NERC) and the Economic and Social Research Council (ESRC).

Nearly 200 of the world's best researchers from more than 50 organisations across Africa and Europe were focused on improving the evidence base around groundwater availability and management in Sub-Saharan Africa. The goal has been to ensure that the hidden wealth of Africa's aquifers benefit all citizens and the poorest in particular. UPGro projects have been interdisciplinary, linking the social and natural sciences to address this challenge
---
Project Description
UPGro projects have been interdisciplinary, linking the social and natural sciences to address this challenge. They will be delivered through collaborative partnerships of the world's best researchers. The programme's success will be measured by the way that its research generates new knowledge which can be used to benefit the poor in a sustainable manner.

RWSN has been supporting the dissemination and uptake of the evidence and tools as they emerge so that they are taken up into policy and practice by governments and other organisations.

Visit the UPGro website and YouTube channel to explore the findings and outputs.
---
More Information
» UPGro - main programme website
This website is maintained by the RWSN Secretariat so that you find all the latest news and events, plus links to reports, documents and webinar recordings.