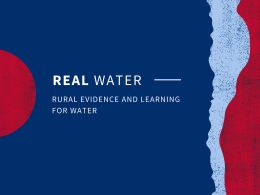 REAL-Water
© 2022 Aquaya • Aquaya
Project starts: 2021
Project finished: 2026
Collaborators & Partners: Aguaconsult, WELL Labs, KNUST, Safe Water for Network, Water Mission, RWSN
Funder: REAL-Water is supported through a $18.9 million Cooperative Agreement between USAID and The Aquaya Institute (Aquaya)
---
Summary
REAL-Water will support policy makers, development partners, and service providers to make strategic decisions and implement best practices for water management through implementation research. It will also ensure coordination with USAID programs contributing to the Water, Sanitation, and Hygiene (WASH) and Water Resources Management (WRM) knowledge base, in alignment with the USAID Water for the World Implementation Research Agenda.

REAL-Water is an initiative of the Center for Water Security, Sanitation and Hygiene in USAID's Bureau for Resilience and Food Security with support from the Office for Maternal and Child Health and Nutrition in USAID's Bureau for Global Health.

////

REAL-Water aidera les décideurs politiques, les partenaires de développement et les prestataires deservices à prendre des décisions stratégiques et à mettre en oeuvre les meilleures pratiques de gestion del'eau grâce à la recherche sur la mise en oeuvre. La coordination sera également assurée avec lesprogrammes de l'USAID contribuant à la base de connaissances sur l'eau, l'assainissement et l'hygiène(WASH) et la gestion des ressources en eau (WRM), conformément au programme de recherche sur la miseen oeuvre de l'eau pour le monde de l'USAID.

REAL-Water est une initiative du Centre pour la sécurité de l'eau, l'assainissement et l'hygiène du Bureaupour la résilience et la sécurité alimentaire de l'USAID, avec le soutien du Bureau de la santé maternelle etinfantile et de la nutrition au sein du Bureau de la santé mondiale de l'USAID.
---
Project Description
REAL-Water is an implementation research program dedicated to three important and interrelated aspects of rural water supply development:

1. Professionalizing rural water service delivery
2. Strengthening water quality monitoring
3. Improved planning for water resources

////

REAL-Water est un programme de recherche sur la mise en oeuvre consacré à trois aspects importants etinterdépendants du développement de l'approvisionnement en eau en milieu rural:

1. Professionnaliser la prestation des services d'eau en milieu rural
2. Renforcer de la surveillance de la qualité de l'eau
3. Amélioration de la planification des ressources en eau
---
More Information
» REAL-Water on USAID Globalwaters.org
» Kwame Nkrumah University of Science and Technology (KNUST)