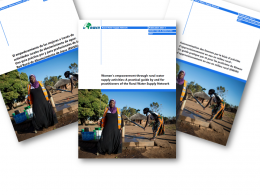 Women's empowerment through rural water supply activities
© 2021 Alexia Webster / WaterAid / Skat Foundation • WaterAid
Project starts: 2020
Project finished:
Collaborators & Partners: RWSN Members from the Leave No-one Behind Community
Funder: SDC
---
Summary
This practical guide is the result of a consultation and co-creation process with members of the Rural Water Supply Network (RWSN). Engineers and gender experts have come together to overcome jargon barriers from their respective disciplines. This guide aims to pro-vide water specialists with the language and knowledge on how best to work with gender experts to build more transformative activities.

Ce guide pratique est le fruit d'un processus de concertation et de cocréation avec les membres du réseau d'approvisionnement en eau en milieu rural (Rural Water Supply Network, RWSN). Des ingénieurs et des spécialistes des questions de genre se sont réunis pour faire tomber les barrières du jargon de leurs disciplines respectives. Ce guide a pour but d'apporter aux spécialistes de l'eau le langage et les connaissances sur la meilleure façon de travailler avec des spécialistes des questions de genre pour élaborer des activités plus transformatrices.

Esta guía práctica es el resultado de un proceso de consulta y de co-creación con miembros de la Red Rural de Abastecimiento de Agua (RWSN). Ingenieros y expertos en género se han unido para superar las barreras que supone la jerga de sus respectivas disciplinas. Esta guía tiene como objetivo proporcionar a los especialistas en agua el lenguaje y el conocimiento sobre la mejor manera de trabajar con expertos en género para construir actividades más transformadoras.
---
Project Description
To create this guide, RWSN members were invited to a collaborative e-workshop, a multilingual e-discussion, and to comment on the draft version of the guide. Furthermore, gender experts in the field of rural water supply were consulted throughout the process to en-sure that simplification of the language did not undermine rigour of the underlying social science. The guide also draws upon lessons from RWSN members collected during a former e-discussion on "How women's engagement in Water User Committees impact on its performance and system functionality" (2016) and a webinar on "Making Water Work for Women, Sharing Inspiring Experiences" (2017).

Pour créer ce guide, les membres du RWSN ont été invités à un atelier collaboratif en ligne, une discussion en ligne multilingue et à commenter la version provisoire du guide. De plus, des spécialistes des questions de genre dans le domaine de l'approvisionnement en eau en milieu rural ont été consultés tout au long du processus pour s'assurer que la simplification du langage ne compromettait pas la rigueur des sciences sociales sous-jacentes. Le guide s'inspire également des leçons des membres du RWSN recueillies lors d'une ancienne discussion en ligne sur « Comment l'engagement des femmes dans les comités d'usagers de l'eau influence-t-il ses performances et la fonctionnalité du système » (2016) et d'un webinaire sur « Faire fonctionner l'eau pour les femmes, partager des expériences inspirantes » (2017).

Para crear esta guía, los miembros de la RWSN fueron invitados a un taller virtual colaborativo, un debate electrónico multilingüe, y a co-mentar sobre el borrador preliminar de la guía. Además, se consultó a expertos en género en el campo del abastecimiento de agua rural durante todo el proceso para garantizar que la simplificación del len-guaje no socavara el rigor de las ciencias sociales subyacentes. La guía también se basa en las lecciones de los miembros de la RWSN recopiladas durante un debate electrónico anterior sobre «Cómo la participación de las mujeres en los comités de usuarios de agua im-pacta en su desempeño y en la funcionalidad del sistema» (2016) y un webinario sobre «Hacer que el agua funcione para las mujeres, compartir experiencias inspiradoras» (2017).
---
Perspectives
Have we missed something? Do you have questions on any of the aspects raised in this guide? Get in touch with the RWSN Secretariat or join the RWSN Leave No-one Behind community and help us re-vise and improve this document in future.

Sommes-nous passées à côté de quelque chose ? Avez-vous des questions sur l'un des aspects soulevés dans ce guide ? Contactez le secrétariat du RWSN ou rejoignez la communauté RWSN Leave No-one Behind et aidez-nous à réviser et à améliorer ce document à l'avenir.

¿Echa algo en falta? ¿Tiene preguntas sobre alguno de los aspectos que se plantean en esta guía? Póngase en contacto con la Secretaría de la RWSN o únase a la Comunidad Leave No-one behind (sin olvi-darse de nadie) de RWSN y ayúdenos a revisar y mejorar este docu-mento en el futuro.
---
More Information
» Women's empowerment through rural water supply activities: A practical guide by and for practitioners of the Rural Water Supply Network
» Autonomisation des femmes par le biais d'activités d'approvisionnement en eau en milieu rural
» El empoderamiento de las mujeres a través de actividades rurales de abastecimiento de agua