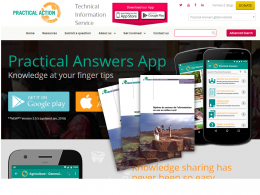 RWSN on Practical Answers
© 2018 Practical Action/RWSN • Practical Action/RWSN
To help rural water professionals get access to the inform they need, RWSN has teamed up with Practical Action to make some of our leading publications available on the Practical Answers website and mobile App.

Let is know if there are any particular resources or publications that you would like to have on this platform.

Pour aider les professionnels de l'eau en milieu rural à accéder aux informations dont ils ont besoin, le RWSN s'est associé à Practical Action pour rendre certaines de nos principales publications disponibles sur le site Web de Practical Answers et l'application mobile.

Indiquez s'il existe des ressources ou des publications particulières que vous aimeriez avoir sur cette plate-forme.
You can find and download publications in English, French and Portuguese from the following sections in "Water & Sanitation"

Vous pouvez trouver et télécharger des publications en anglais, français et portugais à partir des sections suivantes dans "Water & Sanitation"

- Wells, Tubewells and Drilling
- Rainwater Harvesting
- Water Pumping and Lifting
- Water and Sanitation - General Documents