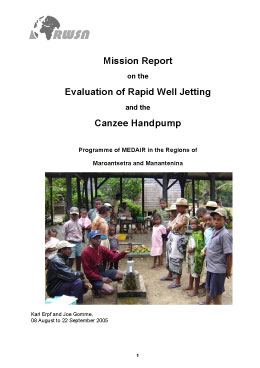 Author
ERPF, K. and GOMME, J.
Year of Publishing
2005
Publisher
Rural Water Supply Network
Institution
Skat
Mission Report on the Evaluation of Rapid Well Jetting and the Canzee Handpump Programme of MEDAIR in the Regions of Maroantsetra and Manantenina
Description:
The evaluation reviewed the MEDAIR project in rural areas around Maroantsetra. Shallow boreholes were drilled using a technique of rapid well jetting. Canzee pumps were installed and users were trained in maintenance.
---
Bibliographical Information:
ERPF, K. and GOMME, J. (2005) Mission Report on the Evaluation of Rapid Well Jetting and the Canzee Handpump. Programme of MEDAIR in the Regions of Maroantsetra and Manantenina , Skat , Rural Water Supply Network , St Gallen, Switzerland
---
DOWNLOADS (125)
Mission Report on the Evaluation of Rapid Well Jetting and the Canzee Handpump
pdf • Size: 6.57 MB