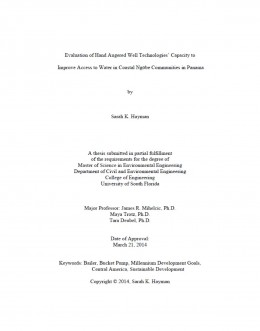 Author
HAYMAN, S.K.
Year of Publishing
2014
Publisher
University of South Florida
Institution
University of South Florida
Evaluation of Hand Augered Well Technologies' Capacity to Improve Access to Water in Coastal Ngöbe Communities in Panama MSc Thesis
Description:
In Panama, the indigenous Ngöbe people in the ÑöKribo coastal area are a group disproportionately affected by a lack of improved access to drinking water and challenges to the feasibility of piped gravity fed water systems that typically serve the rest of the country. An NGO aiming to ameliorate this situation introduced two improved groundwater self-supply technologies to the region: bailers and EMAS hand pumps. This study assesses the comparative performance of these systems while evaluating the respective performances of existing water sources, using the wide variety of quantitative and qualitative data obtained.

EMAS hand pump and bailer technologies yielded a mixed level of performance based on physical, chemical, and bacteriological water quality measurements in the shallow wells of the study environment. The technologies generally satisfied international guidelines and expected ranges based on chemical and physical parameters such as conductivity, TDS, and turbidity (with 57% of samples under 5 NTU). EMAS hand pumps demonstrated excellent bacteriological water quality with all samples indicating undetectable levels of E.coli, while bailers had a fair performance with 83% of samples falling into a range signifying intermediate to no associated health risk.

Interview data demonstrated that the introduction of hand augered wells significantly improved household water access in the study area based on users considerations by providing a reliable water drinking water alternative with adequate quantities of water perceived to be clean. Furthermore, the overall sustainability analysis found EMAS hand pump and bailer technologies to be effective and appropriate, with bailer systems considered particularly suitable for applications in similar remote areas with high groundwater tables due to low costs, minimal materials, and a simplistic design. Ultimately, this study yielded specific recommendations to improve the sustainability and maximize the benefits of these self-supply technologies in the ÑöKribo area of Panama and similar locations, with emphasis on the development strategy adopted while implementing these systems.
---
Bibliographical Information:
HAYMAN, S.K. (2014) Evaluation of Hand Augered Well Technologies' Capacity to Improve Access to Water in Coastal Ngöbe Communities in Panama. MSc Thesis , University of South Florida , University of South Florida , Florida, US
---
DOWNLOADS (34)
Evaluation of Hand Augered Well Technologies' Capacity to Improve Access to Water in Coastal Ngöbe Communities in Panama
pdf • Size: 2.44 MB