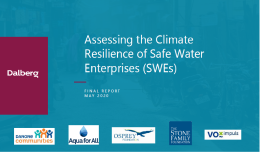 Author
Danone Communities, Aqua for All, Osprey Foundation, The Stone Family Foundation, VOX Impuls
Year of Publishing
2020
Publisher
Dalberg
Institution
Dalberg
Assessing the Climate Resilience of Safe Water Enterprises (SWEs) Final Report May 2020
Description:
In recent years, Safe Water Enterprises ( have emerged as a viable solution to help meet the world's drinking water needs The 2017 report "The Untapped Potential of Decentralized Solutions to Provide Safe, Sustainable Drinking Water at Large Scale" found SWEs already had a global footprint across Asia, Africa, and Latin America, and were reaching 3 million customers. In addition, the study noted that the potential market size for decentralized water systems was 3 9 billion people Since then, SWEs have expanded rapidly for example, 1001 fontaines grew more by more than 5 times, and today serves over 700 000 customers in Cambodia alone.
However, climate change is increasingly threatening water supply systems around the world, including SWEs Climate change is perhaps the largest threat faced by water systems It manifests as shock (e g increased droughts and flooding, more severe storms) and stress events (e g depleting groundwater levels, rising oceans), and necessitates that water systems build resilience to guard themselves against potentially devastating effects In this light, it becomes important to assess the relative resilience of SWEs in the face of climate change and identity measures to improve resilience

This report, by Dalberg, is a strategic assessment of the climate resilience of SWEs, and also lists key mitigation tactics and implications for funders, policymakers, and SWEs The framework identifies 23 different pathways through which climate change affects the supply demand sides of safe drinking water supply. These include some obvious pathways such as increase in groundwater depth but also more non obvious ones such as reduction in customer density due to out migration The report also identifies nine categories of resilience tactics that can be deployed by SWEs including creating larger buffer stocks, moving to alternate treatment technologies, and even sharing resources across locations Finally, the report makes five big recommendations for the ecosystem including the creation of an SWE Climate Alliance and the setting up of a climate change resourcing fund for SWEs.
The analysis framework is customized and draws from resilience approaches within energy systems, business systems resilience, and urban water systems. While there is no consensus framework on understanding the climate resilience of water systems, we have identified key concepts and lessons from analysis related to climate resilience for businesses in general and specific adjacent sectors like energy infrastructure We believe resilience can be understood as a combination of intrinsic resilience actions that an organization can implement without outside support and assisted resilience things that require external support.

Together, these resilience measures prevent the organization from experiencing the full effects of climate change. Left unmitigated, climate change may force water systems to reach a point of failure where they are no longer meeting the WHO's safe water parameters for quality, quantity, continuity, accessibility, and affordability. Chapter 3 describes the resilience framework in additional detail.
The report, combining the water climate risk and resilience frameworks, also identify the anticipated effects of climate change on SWE service delivery across the world The analysis looks at a 10 year timeframe and uses the hydrological basin as the fundamental analytical unit, allowing for highly localized effects to be understood We have consolidated our findings into seven segments that summarize effects across different regions. Key highlights are listed in the Executive Summary, with Chapter 4 providing additional analysis and details.
---
Bibliographical Information:
Danone Communities, Aqua for All, Osprey Foundation, The Stone Family Foundation, VOX Impuls (2020) Assessing the Climate Resilience of Safe Water Enterprises (SWEs). Final Report May 2020 , Dalberg , Dalberg
---
DOWNLOADS (8)
Assessing the Climate Resilience of Safe Water Enterprises (SWEs)
pdf • Size: 3.08 MB