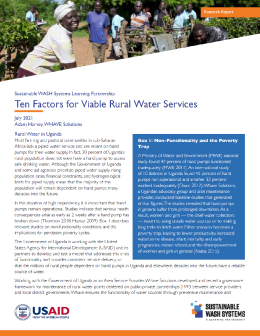 Author
Harvey, A.
Year of Publishing
2021
Publisher
USAID SWS Learning Partnership
Institution
Whave Solutions
Ten Factors for Viable Rural Water Services Sustainable WASH Systems Learning Partnership
Description:
Whave has implemented a rural water service deliver y model and led sector learning on the viability of rural water service deliver y since 2011, which has culminated in identifying key factors influencing viability. These ten factors are considered essential to an effective and sustainable system for delivery of safe water in rural areas. They focus on the importance of coordination of rural water sector actors and the means through which this can be accomplished, the intermediate and long-term roles of various forms of financing for professionalized maintenance services, and the relationships and incentives among key actors, including professional service providers, communities, donor s and donor-funded NGOs, and national and local governments. The demonstrated high levels of hand pump functionality that have resulted from Whave's implementation of a performance management approach provide a roadmap going forward to others considering alternatives to the community based management model of the past.
---
Bibliographical Information:
Harvey, A. (2021) Ten Factors for Viable Rural Water Services. Sustainable WASH Systems Learning Partnership , Whave Solutions , USAID SWS Learning Partnership
---
DOWNLOADS (90)
Ten Factors for Viable Rural Water Services
pdf • Size: 1.14 MB