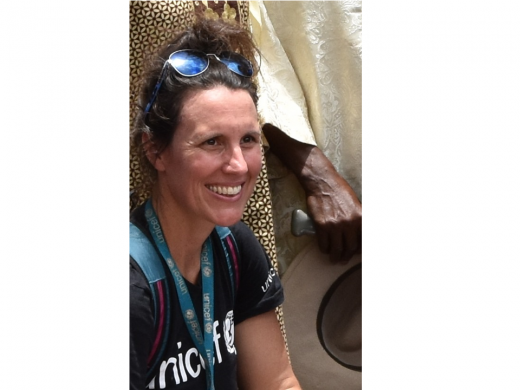 Kelly Anne Naylor, UNICEF Head of WASH (RWSN Chair 2016-2019)
© 2019 UNICEF • UNICEF
Word from the Chair: Kelly Anne Naylor, UNICEF

While we are making progress, we are not at the last mile nor the finish line yet- Rural water champions are needed now more than ever!
Fundamentally, rural water supply is about ensuring the human right to water, leaving no one behind. While global trends show a trend towards urbanization, people living in rural areas continue to make up the large majority with no services at all and overall lower levels of service. Greater attention and deliberate action to close the gaps on inequalities between rural and urban and rich and poorest populations, and better address threats that a changing climate and water scarcity pose to rural water supply.
Beyond a human survival need, we need to make a stronger case that safe, sustainable and affordable water supply is an essential part of vibrant rural economy and standard of living. On recent field visits in Chad, Yemen, Niger, Mauritania, Ethiopia, and Myanmar, I saw firsthand how innovations in solar pumping for piped water supply networks are catalysts bringing not only higher levels of service through household water connections- eliminating long distances and waiting times at water points, but also creating quality jobs, local entrepreneurship, and power supply to communities- benefits far beyond the water itself.

After three years as RWSN chair, my term is coming to an end. This has been a dynamic time in the network with development of the RWSN strategy 2018-2023, updated Governance document, new initiative on Young Professionals, and continued active engagement with network members through webinar series, publications, and e-discussions. It has been an immense pleasure to work so closely with the highly talented and committed RWSN Secretariat team- Sean, Kerstin, Meleesa, Sandra, Elodie. Also, I would like to express sincere appreciation to Skat Foundation for being stable and continuously supportive hosts and to SDC for the long-term partnership and financial support to RWSN. The Steering Committee and Theme leaders truly bring together some of the greatest professionals in the rural water community that serve the sector in a spirit of collaboration, technical excellence and of course fun!

Last but not least, I want to Thank You – the members of RWSN who are the beating hearts of rural water supply, serving courageously in countries and communities around the world, working with dedication and passion to progressively advance the quality and scale of rural water services for the most vulnerable population. As the baton will pass to a new chair in 2020, THANK YOU once again for sharing this rural water journey and I am looking forward to actively participating in RWSN as one of over 10,000 rural water champions- la lutte continue!
Bien qu'en train de progresser, nous ne sommes pas encore arrivés au dernier kilomètre ni sur la ligne d'arrivée - les champions de l'eau en milieu rural sont plus que jamais nécessaires!

Fondamentalement, l'approvisionnement en eau en milieu rural consiste à garantir le droit humain à l'eau, en ne laissant personne de côté. Alors que les tendances mondiales montrent une tendance à l'urbanisation, les personnes vivant dans les zones rurales continuent de constituer la grande majorité de la population n'ayant accès à aucun service, ainsi qu'avec des niveaux de service globalement inférieurs. Il est nécessaire de porter une plus grande attention et d'agir afin de combler les écarts d'inégalité entre les populations rurales et urbaines et les populations riches et pauvres, et mieux faire face aux menaces que le changement climatique et la pénurie d'eau font peser sur l'approvisionnement en eau en milieu rural. Au-delà du besoin de survie de l'être humain, nous devons démontrer clairement qu'un approvisionnement en eau sûr, durable et abordable est un élément essentiel d'une économie rurale et de niveaux de vie dynamiques. Lors de récentes visites de terrain au Tchad, au Yémen, au Niger, en Mauritanie, en Éthiopie et au Myanmar, j'ai pu constater directement que les innovations en matière de pompage solaire pour les réseaux d'approvisionnement en eau courante sont des catalyseurs permettant non seulement d'améliorer les niveaux de service grâce aux branchements domestiques - en éliminant les longues distances et les temps d'attente aux points d'eau, mais également en créant des emplois de qualité et en favorisant les initiatives locales, en fournissant l'électricité aux communautés, ayant ainsi des répercussions bien au-delà de la ressource même.

Après trois ans à la présidence de RWSN, mon mandat touche à sa fin. Ce fut une période dynamique au sein du réseau avec l'élaboration de la stratégie RWSN 2018-2023, la mise à jour du document sur la gouvernance, une nouvelle initiative sur les jeunes professionnels et un engagement actif continu avec les membres du réseau par le biais de séries de webinaires, de publications et de discussions en ligne. Ce fut un immense plaisir de travailler en étroite collaboration avec l'équipe très talentueuse et engagée du Secrétariat de RWSN - Sean, Kerstin, Meleesa, Sandra, Elodie. Je tiens également à remercier sincèrement la Fondation Skat pour sa stabilité et son soutien constant en tant qu'hôte et la DDC en tant que partenaire de long terme et son soutien financier à RWSN. Le Comité directeur et les responsables de thèmes rassemblent quant à eux quelques-uns des plus grands professionnels de la communauté de l'eau en milieu rural, et servent le secteur dans un esprit de collaboration, d'excellence technique et bien sûr de plaisir !

Enfin et surtout, je tiens à VOUS remercier - les membres de RWSN qui êtes le coeur de l'approvisionnement en eau en milieu rural, servant courageusement les pays et les communautés à travers le monde, travaillant avec dévouement et passion pour améliorer progressivement la qualité et l'échelle des services d'eau en milieu rural pour les populations les plus vulnérables.
Alors que le flambeau passera à un nouveau président en 2020, je vous dis MERCI encore une fois de partager ce voyage sur l'eau en milieu rural et j'ai hâte de participer activement à RWSN en tant que l'un des plus de 10'000 champions de l'eau en milieu rural - la lutte continue !
//////
Campeones del en ámbito rural, ¡necesitados ahora más que nunca!

Mientras estamos progresando, todavía no hemos llegado al último kilómetro ni en la línea de meta - ¡se necesitan campeones del agua en zonas rurales ahora más que nunca!
Fundamentalmente, el suministro de agua ámbito rural consiste en garantizar el derecho humano al agua, sin dejar a nadie atrás. Si bien las tendencias mundiales muestran una tendencia hacia la urbanización, las personas que viven en las zonas rurales siguen constituyendo la gran mayoría de la población que falta totalmente de servicios y que tiene, en general, servicios de nivel inferior. Se requieren mayor atención y acción para cerrar las brechas en las desigualdades entre las poblaciones rurales y urbanas y entre las poblaciones ricas y pobres, y para abordar mejor las amenazas que el cambio climático y la escasez hídrica representan para el suministro de agua en las zonas rurales. Más allá de la necesidad de supervivencia humana, debemos defender con mayor firmeza que un suministro de agua seguro, sostenible y asequible es una parte esencial de una economía y un nivel de vida dinámicos. En recientes visitas de campo en Chad, Yemen, Níger, Mauritania, Etiopía y Myanmar, vi de primera mano cómo las innovaciones en las bombas solares para redes de suministro de agua por tubería son catalizadores que no sólo traen mayores niveles de servicio a través de las conexiones de agua doméstica - eliminando las largas distancias y los tiempos de espera en los puntos de agua, sino que también crean puestos de trabajo de calidad, emprendimiento local y suministro de energía a las comunidades - beneficios que van mucho más allá del agua misma.

Después de tres años como presidente del RWSN, mi mandato está llegando a su fin. Este ha sido un momento dinámico en la red con el desarrollo de la estrategia de la RWSN 2018-2023, el documento de gobernanza actualizado, la nueva iniciativa sobre los jóvenes profesionales y el compromiso activo y continuo con los miembros de la red a través de la serie de seminarios en línea, las publicaciones y los debates en línea. Ha sido un inmenso placer trabajar tan de cerca con el altamente talentoso y comprometido equipo de la Secretaría de RWSN - Sean, Kerstin, Meleesa, Sandra, Elodie. También quiero expresar mi sincero agradecimiento a la Fundación Skat por su apoyo y hospedaje estable y a la DDC por la colaboración duradera y el apoyo financiero al RWSN. ¡El Comité Directivo y los líderes de Temas reúnen a algunos de los mejores profesionales de la comunidad del agua rural que sirven al sector en un espíritu de colaboración, excelencia técnica y, por supuesto, diversión!

Por último, pero no menos importante, me gustaría agradecerles a ustedes, los miembros de RWSN, que son el corazón del suministro de agua en las zonas rurales, sirviendo con valentía en países y comunidades de todo el mundo, trabajando con dedicación y pasión para mejorar progresivamente la calidad y la escala de los servicios de agua en las zonas rurales para las poblaciones más vulnerables. Mientras el testigo pasará a un nuevo presidente en 2020, le quería decir GRACIAS una vez más por compartir este viaje de agua en zonas rurales y me alegro de participar activamente en RWSN como uno de los más de 10.000 campeones del agua rural - ¡la lucha continúa!
---
More Information
» RWSN Update - November 2019 (English)
» Bulletin trimestriel RWSN - Nov 2019