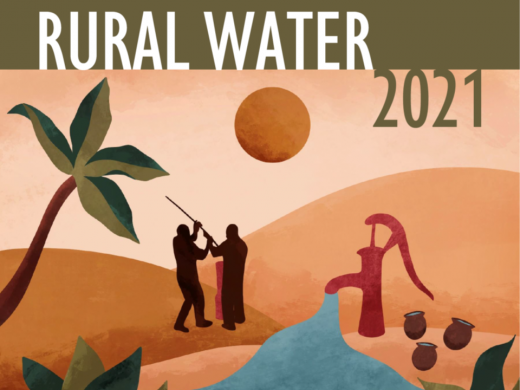 Rural Water 2021 + Blue Pages / Pages Bleues
© 2021 Alice Chautard / RWSN • Alice Chautard
Project starts:
Project finished:
Collaborators & Partners: Dr Philip Deal (Water 4), Skat Foundation + RWSN members
Funder: SDC + Advertisers
---
Summary
Welcome to the second edition of Rural Water, the RWSN Directory of rural water supply services, tariffs, management models and lifecycle costs, and the first edition of the RWSN Blue Pages (in English and French).

This year we have updated and expanded Rural Water and added:
- Special features from the RWSN Themes and projects.
- Blue Pages: a free listing service for any product or services directly related to rural water supply, plus paid advertising opportunities in the publication and the standalone version of the Blue Pages.
- Short entries from charities and NGOs who were able to provide a bit of data on how they operate or implement community-based projects.
- Country profiles for selected countries with some key data from the UNICEF-WHO Joint Monitoring Programme (JMP).
---
Project Description
Bienvenue à la première édition des Pages Bleues du RWSN.
QUE SONT LES PAGES BLEUES DU RWSN ?
Les membres du RWSN nous ont répété maintes fois qu'il serait utile de savoir qui est actif dans le secteur de l'eau en milieu rural. Les Pages Bleues du RWSN visent à répertorier les fournisseurs de services d'approvisionnement en eau en milieu rural, qu'il s'agisse de vendeurs et de sociétés de services de forage, d'ingénierie ou de conseil.

Le repértoire du RWSN sur les services d'approvisionnement en eau en milieu rural, tarifs, modes de gestion et coûts de cycle de vie a été publié pour la première fois en 2019. Le secrétariat du RWSN prévoit d'en faire une publication régulière, avec un annuaire des entreprises (les Pages Bleues) à la fin de cette publication.

Les Pages Bleues du RWSN sont composées de petites annonces (gratuites) et d'annonces payantes (1/4 de page, ½ page et page entière) pour les prestataires de services WASH en milieu rural (particuliers et entreprises).

Le RWSN ne procède à aucune accréditation ou vérification des informations fournies à travers les Pages Bleues du RWSN. Les inscriptions sont basées sur les informations fournies par l'organisation ou l'individu qui figure sur la liste.
---
Perspectives
WHAT ARE THE RWSN BLUE PAGES?
At RWSN, we have heard times and times again from our members that it would be helpful to know who is active where in the rural water sector. The RWSN Blue Pages is an initiative to list rural water supply service providers, be they vendors and service companies, or drilling, engineering, or consulting services.
The RWSN Directory of Rural Water Supply Services, Tariffs, Management Models, and Lifecycle Costs was first published in 2019. The RWSN Secretariat plans to make this a regular publication, with a business directory (the Blue Pages) added at the back of this publication.
The RWSN Blue Pages is composed of basic listings (free) and paid adverts (1/4 page, ½ page and full page) for rural WASH service providers (individuals and companies).
RWSN does not undertake any accreditation or verification of the listings provided to the RWSN Blue Pages. Entries are based on information provided by the listing organisation or individual.
---
More Information
» Download the Rural 2021 & Blue Pages now / Téléchargez maintenant les Pages Bleues