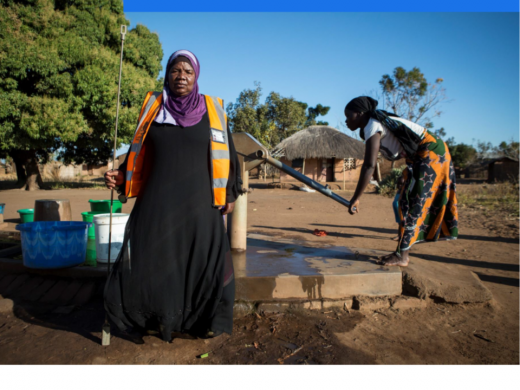 Pump mechanic Dalia Soda at one of the boreholes she maintains in the village of Nzeremu, Salima District, Malawi, June 2016.
© 2016 WaterAid / Alexia Webster • WaterAid / Alexia Webster)
Project starts: 2020
Project finished: 2021
Collaborators & Partners: RWSN Members from the Leave No-one Behind Community
Funder: SDC
---
Summary
This practical guide is the result of a consultation and co-creation process with members of the Rural Water Supply Network (RWSN). Engineers and gender experts have come together to overcome jargon barriers from their respective disciplines. This guide aims to pro-vide water specialists with the language and knowledge on how best to work with gender experts to build more transformative activities.

Une version française sera disponible plus tard dans l'année
La versión en español estará disponible a finales de este año
---
Project Description
To create this guide, RWSN members were invited to a collaborative e-workshop, a multilingual e-discussion, and to comment on the draft version of the guide. Furthermore, gender experts in the field of rural water supply were consulted throughout the process to en-sure that simplification of the language did not undermine rigour of the underlying social science. The guide also draws upon lessons from RWSN members collected during a former e-discussion on "How women's engagement in Water User Committees impact on its performance and system functionality" (2016) and a webinar on "Making Water Work for Women, Sharing Inspiring Experiences" (2017).
The guide has five parts: The introduction presents the rationale be-hind this guide and highlights elements to keep in mind throughout the guide. Then, the concepts of women's empowerment, as under-stood in this guide, are introduced and broken down into five key factors: access to information; participation; engagement & inclusive-ness; power dynamics & structures; and capacity-building. Part three provides practical steps to follow within each empowerment factor, while false beliefs (or myths) are exposed. After looking at the factors, part four looks at women's empowerment throughout the cycle of an activity: identification, design; implementation; monitoring & eval-uation; and reporting. Each stage contains a checklist of actions. Fi-nally, concluding remarks underline the importance of women's em-powerment as a strategic objective in itself, and discuss the impact on external stressors on women's empowerment.
---
Perspectives
The co-authors were aware of the rich variety of tools that already exist, related to women's empowerment, and wanted to make this wealth of knowledge available. Throughout the collaborative writing process, useful tools were identified and compiled into a list, which is available in the Annex. You are encouraged to have look at the list to deepen your knowledge on the topic and go beyond the content of this guide.

Have we missed something? Do you have questions on any of the aspects raised in this guide? Get in touch with the RWSN Secretariat or join the RWSN Leave No-one Behind community and help us re-vise and improve this document in future.
---
More Information