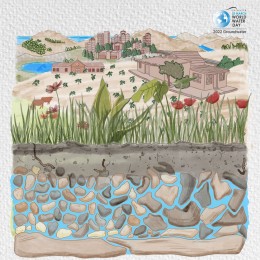 Groundwater
© 2022 UNWater • UNWater
Project starts: 2022
Project finished: 2020
Collaborators & Partners: UN-Water

---
Summary
Groundwater is invisible, but its impact is visible everywhere. Out of sight, under our feet, groundwater is a hidden treasure that enriches our lives. Almost all of the liquid freshwater in the world is groundwater. For rural areas it is often the safest, most reliable water resources.

As climate change gets worse, groundwater will become more and more critical. We need to work together to sustainably manage this precious resource. Groundwater may be out of sight, but it must not be out of mind.
---
Project Description
RWSN is a member of UN-Water and committed to Sustainable Groundwater Development, as one of our themes having focused for many years on drilling professionalisation, pumping technology and acting as a knowledge broker between groundwater research, policy and practice.
---
More Information
» World Water Day - Official UN-Water website
» RWSN's work on Sustainable Groundwater Development
» Unlocking the Potential of Groundwater for the Poor (hosted by RWSN)