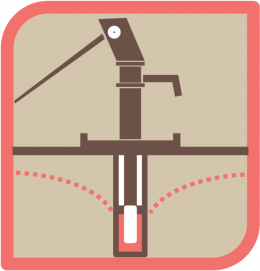 Author
DANERT, K and FUREY, S
Year of Publishing
2012
Publisher

Institution
Skat Foundation
GROUNDWATER MATTERS: DRINKING WATER FOR RURAL PEOPLE Four week E-discussion from 10th September 2012
Description:
Stimulating discussion, exchange and building up a trusted network of groundwater development professionals is one of RWSN's aims. This is the basis for the E-discussion that ran for 4 weeks from the 10th September 2012 on the sustainable groundwater development community of DGroups (currently comprises over 200 members). More details, including the questions posed are given in Annex 1.
This report summarises over 100 inputs made by 46 members from 22 countries. The purpose of this report is three-fold:
1. The tremendous knowledge and experiences shared by the members of the community during the 2012 Sustainable Groundwater Development e-discussion is synthesised.
2. Key issues and recommendations raised in the discussion are clearly formulated.
3. Stakeholders, with the mandate and means to actively improve sustainable groundwater development are called to action to address the issues raised.
---
Bibliographical Information:
DANERT, K and FUREY, S (2012) GROUNDWATER MATTERS: DRINKING WATER FOR RURAL PEOPLE. Four week E-discussion from 10th September 2012 , Skat Foundation , Switzerland
---
DOWNLOADS (60)
Sustainable Groundwater Development E-Discussion September 2012 Summary
pdf • Size: 0.94 MB