RWSN Resources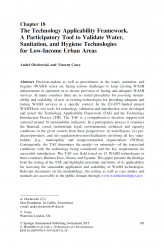 Downloads: 99
---
Author: Olschewski, A. and V. Casey
Year of Publishing: 2015
Publisher: Springer International Publishing
Institution:
Decision-makers as well as practitioners in the water, sanitation, and hygiene (WASH) sector are facing serious challenges to keep existing WASH infrastructure in operation or to ensure provision of lasting and adequate WASH services. In many countries there are no tested procedures for assessing sustainability and scalability of new or existing technologies for providing adequate and lasting WASH services in a specific context.

The TAF was field tested on 13 WASH technologies in three countries: Burkina Faso, Ghana, and Uganda. This paper presents the findings from the testing of the TAF and highlights potentials and limits of its applicability
for assessing the sustainable application and scalability of WASH technologies.
Relevant documents on the methodology, the testing as well as case studies and manuals are accessible in the public domain through www.washtechnologies.net.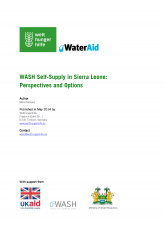 Downloads: 78
---
Author: Gelhard, M.
Year of Publishing: 2014
Publisher: Welthungerhilfe
Institution: Welthungerhilfe/WaterAid
The paper summarizes the findings of an independent evaluation of two DFID-funded projects implemented by Welthungerhilfe and WaterAid to specifically test a market based approach to self-supply in Sierra Leone. The findings presented indicate a good potential for self-supply to complement communal water services where formal service providers attribute lower priority to target smaller remote and inaccessible communities (population of 150 persons and below).

Includes a Technology Applicability Framework (TAF) assessment of the EMAS flexi-pump.

DISCLAIMER: This is a non-RWSN publication and endorsement by RWSN or any of its member organisations should not be inferred.
Pages: 1