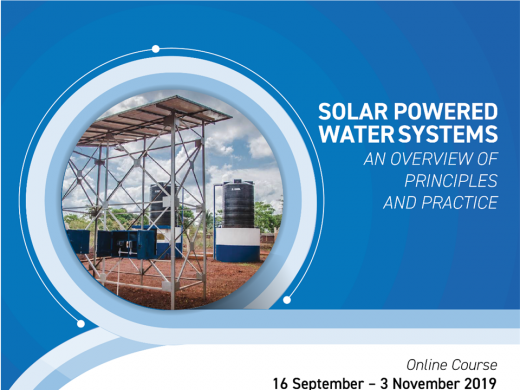 Solar Pumping Course
© 2019 Water Mission • Water Mission
Project starts: 2019
Project finished: 2019
Collaborators & Partners: Water Mission, UNICEF, RWSN, CapNet
Funder: UNICEF
---
Summary
It is widely believed that solar powered solutions will play a critical role in achieving the UN's ambitious Sustainable Development Goals, particularly those that are related to rural water supply. However, unless solar powered water systems (SPWS) are implemented and supported effectively, the technology's benefits will not be realized and existing challenges will only be amplified.
---
Project Description
THIS COURSE AIMS TO:

1. Address common misconceptions regarding solar powered water systems.
2. Raise awareness about, and increase utilization of, existing standards and reference materials.
3. Ultimately improve the sustainability and impact of solar powered water systems.

WHO SHOULD PARTICIPATE?
Professionals with technical and non-technical backgrounds who are involved, or considering involvement, in planning, managing, or monitoring water supply programs that utilize solar powered pumps. Advanced understanding of electro-mechanical pumping systems not required.

QUICK FACTS
Interactive features: Discussion forum with direct access to facilitators and other participants.

Registration cost: Free - but places are strictly limited.
Course language: English
Credit: Certificate awarded upon completion.
---
More Information